Exquisa cream cheese in the 1.5 kg tub is a perfect alternative for crème fraîche, double cream or sour cream and ensures reliable results. The packaging in a resealable container satisfies the highest requirements for quality and user friendliness. Perfectly suited for cold and hot dishes, sauces, soups and desserts, as a refinement a garnish, filling or dip.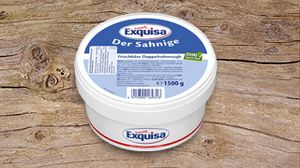 EXQUISA 'CREAMY' 1.5 KG
This product offers an exceptionally creamy-fresh and mild taste and a double-cream consistency. Perfect as a spread, for fillings and dips or as a refinement for soups and sauces.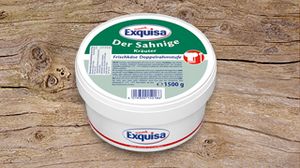 EXQUISA 'CREAMY' WITH HERBS 1.5 KG
A selection of spicy herbs in a deliciously creamy double-cream create the unmistakeable creamy-fresh and savoury Exquisa taste sensation. Perfect as a spicy-savoury spread , dip or as an ingredient for fillings.
Feel free to call us: +49 8241 / 502 - 337, send a mail to vertrieb@exquisa.com or contact us with our contact form.