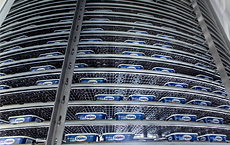 The basic ingredient for all our specialities is premium quality fresh milk, sourced from the Alpine Uplands region from Munich to Lake Constance. Our own fleet of milk tankers transports the fresh milk of that day from the farms to our facility in Buchloe around the clock.
As diverse the Karwendel-Werke products may be – each one is manufactured in very similar production processes: A few basic ingredients – fromage frais/cream cheese, yoghurt and cream – are combined with a selection of ingredients like herbs or fruit.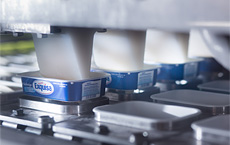 THE BEST FROM MILK
All milk delivered to our facility is separated into high-fat cream and high-protein skimmed milk in a first step. Depending on the desired fat content of the finished product, the cream and skimmed milk are then reunited in specific volume quotas for pasteurisation, i.e. they are heated quickly and carefully. As a next step, specific lactic acid cultures and (for some products) curd are added. The milk is then left to mature for 12 to 16 hours in large tanks. This process is called coagulation.
Once coagulated, the liquid whey has to be removed from the mixture using a centrifuge: to allow our fromage frais to achieve the desired spooning consistency and our cream cheese its spreadability. That is how our basic ingredient, rich in proteins – and in the case of fromage frais milk fat – maintains the fullness of milk's valuable components.
SAVOURY OR SWEET: HERE COMES THE TASTE
Depending on the desired intensity, creaminess and durability, the basic cream cheese/fromage frais, yoghurt and cream are then combined in meticulously balanced volume ratios. In the same processing step, the taste-defining ingredients are added: selected herbs and spices for the cream cheese specialities, sweet or fruity ingredients for fromage frais, plus salt and sugar as required. Then the product is churned until creamy or – in the case of miree – whipped until fluffy.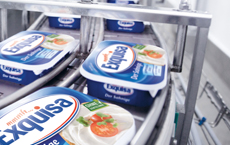 FRESHLY PACKAGED AND READY FOR THE SHELF
As a next step, our cream cheese and fromage frais varieties are then filled into their trademark pots under strictest hygienic conditions. The temperatures at which the products are filled vary between 15 and 70°C depending on the product – the fill temperature influences the desired shelf life, texture and taste. Our Exquisa cream cheese, for example, is packaged at approximately 70°C to achieve a maximum shelf life.
We then carefully quick-cool our products in special refrigeration plants to around 8°C to ensure that the incomparable taste of our cream cheese and fromage frais varieties is optimally maintained.
It takes a total of 24 to 48 hours after the milk's arrival at our facility in Buchloe, for the final products to be ready to leave. A new batch of cream cheese or fromage frais specialities is for transport to the retailers.