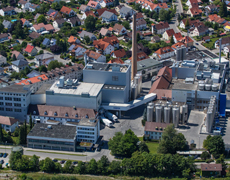 Since 1926, Karwendel-Werke has been headquartered in Buchloe – the so-called "gateway to the Allgäu region". The town, which grew from a settlement close to a forested mountain range that gently slopes down towards Gennachtal Valley, looks back on a turbulent history. The first settlements can be dated back to around 800 AD. The first official mention dates back to the 12th century and marks the beginning of the documented history of this East Allgäu town with now around 13,500 inhabitants.

THE TOWN BY THE BEECH FOREST
Between the years 1100 and 1150 AD, the noblewoman Bertha transfers the ownership of her lands of Buchelon to the Rotterbuch Monastery – resulting in the first official mention of Buchloe. The name of the town is most likely derived form the Old High German "ze den buoch-lohun", which means "by the beech forest". The location remains as idyllic and picturesque now as it was then, making Buchloe a wonderful destination for lovers of nature and culture, as the region around the town is perfect for hiking, biking and leisurely strolls. Its central location allows day trips to the neighbouring Upper Bavaria with the state capital Munich, as well as to Austria and Switzerland, and not all options will require a car.
NOSTALGIC GEMS AND STAR GAZING
Buchloe, being the third largest town in East Allgäu County, has plenty to offer: In addition to a friendly ambiance and a well cared for town centre, the inhabitants enjoy an agile cultural and social life. The regional museum, which opened its doors in 1997, offers insights into local customs with nostalgic gems from the various eras of the town's history. Visitors can view a wide variety of exciting and curious exhibits that bear witness to a turbulent past. Many of the buildings in Buchloe also remind us of the town's rich history: There are architecturally diverse church buildings and castles and of course the public observatory to visit.
BUSINESS LOCATION IN EAST ALLGÄU WITH FUTURE ORIENTATION
It all comes together in Buchloe: Its excellent traffic infrastructure location and future-oriented community make Buchloe and attractive business location for regional business culture – as it does for Karwendel-Werke, headquartered in the vicinity of Buchloe's train station. As a transport hub and as a town that continuously invests in development, Buchloe is a location with charm and a strong future: As we are firmly rooted in the region, Karwendel manufactures all cream cheese and fromage frais specialities right here in Buchloe.