EXQUISA: A PASSION FOR GREAT TASTE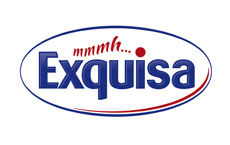 You'd be hard pressed to find someone in Germany, who wouldn't recognise our jingle. "Mmmh Exquisa … keiner schmeckt mir so wie dieser" – this slogan has accompanied our highly successful cream cheese and fromage frais products since the 1970s and emphasises that which makes Exquisa products unique: a taste like no other. The cream cheese and fromage frais specialists at Exquisa always find a way to make simple food EXTRA special – and that is the "Mmmh" effect.
EXQUISA CREAM CHEESE – VARIETY FOR EVERYONE
Exquisa cream cheese specialities always taste great – as a simple and delicious spread on fresh bread, or as an ingredient for cooking or baking. The secret behind the unrivalled Exquisa taste: more than 100 years of experience in milk processing, fresh milk from regional farms and premium quality ingredients!
Our "Creamy" cream cheese product line is an absolute classic: The whipped double-cream recipe promises a creamy taste like no other. And for those watching their figure, Exquisa has a whole range of cream cheese varieties with different levels of fat content. Adventurous connoisseurs will find many different and always new taste varieties to choose from. The cream cheese range "Creation" with its seasonal concept "Creation of the Year" makes trying new flavours interesting and fun.
Exquisa also offers a delicious cottage cheese variety with just 0.8% fat. Our offering is rounded off with a selection of cream cheese slices, offering a tasty change from regular hard and sliced cheeses.
MASCARPONE – ITALIAN FLAIR FOR YOUR KITCHEN
Fresh cream makes this Italian speciality an unrivalled sensation for the palate: Mascarpone by Exquisa is therefore a perfect ingredient for many delicious dishes. Exquisa Mascarpone is so much more than just a key ingredient for tiramisu and many other desserts – try refining your soups and sauces with this creamy miracle!
LITTLE SNACK BETWEEN MEALS
The Exquisa Cheesecake Snack is baked with the very best cream cheese, making it extra juicy and delicious – it comes in a perfect portion size for your tea break or as a little snack between meals.
EVERYONE HAS A FAVOURITE: EXQUISA FROMAGE FRAIS – NATURAL OR FRUITY
Natural and pure or fruity and sweet: The Exquisa fromage frais selection offers classic varieties as well as many different and exciting specialities for calorie counters and connoisseurs. The creamy fromage frais natural is a true all-rounder and always incredibly delicious: as a snack on its own or as a special ingredient in creative dishes. It adds elegance to sweet desserts without adding unnecessary calories. The natural variety also comes to the fore in spicy main courses and hearty dips. The delicious fruit and seasonal varieties come with various levels of fat content – there are so many to choose from that your favourite is sure to be among them!
Fromage frais is not just delicious and versatile, it can also be helpful as part of a well-balanced diet. It contains valuable calcium and provides the body with high-quality milk protein.
GREAT TASTE AND QUALITY GUARANTEED
Quality and taste are two of our main concerns – and that has its rewards: DLG (German Agricultural Society) once again honoured Exquisa for outstanding product quality in 2016. Exquisa products took home a total of 30 gold and 3 silver medals. That makes us proud – and we will continue to offer exquisite Exquisa quality and taste year after year!

Please visit www.exquisa.de/en for more information!