MIREE: DELICIOUSLY
LIGHT AND AIRY
There are times during the day, when you just have to take a little break and miree makes these little breaks an airy and light delight! The many miree cream cheese varieties are just perfect for many occasions: They will taste just as great at a romantic picnic for two, as a little snack in between, or when sharing some quality time around the dinner table with your family. Try miree as a light and delicious topping for fresh bread, rolls or croissants or as a delicious and tasty dip for fresh, crunchy vegetables. Our miree cream cheese varieties are also great and flavoursome ingredients for a creative kitchen.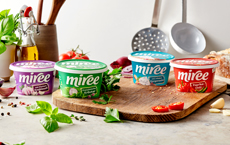 UNRIVALLED CONSISTENCY – MANY DELICIOUS VARIETIES
We offer a great variety of airy and light cream cheese varieties for you to try: How about a fresh baguette with miree French Herbs, salmon with miree and Fresh Horseradish or miree Paprika-Chili as a tasty dip for your grill party – there is no end to what you can do with miree in your kitchen!
GREAT TASTE & AWARD-WINNING QUALITY
Melts in your mouth: Its incredibly airy and light consistency makes miree cream cheese absolutely irresistible. Our meticulous and low-impact manufacturing processes ensure that all the beneficial effects of the quality ingredients remain intact.. The use of only the very best raw materials and a complete lack of conservatives ensure the consistently high, award-winning quality of our miree cream cheese specialities. Many of them win DLG medals year after year and Ökotest honoured the classic variety miree French Herbs with an "Excellent" label.

Please visit www.miree.de for more information about miree cream cheese!