OUR MOST PRECIOUS COMMODITY:
THE RAW MATERIAL MILK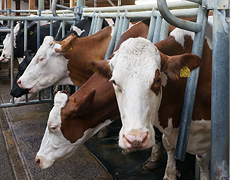 Our dairy farmers deliver about 261 million litres of milk per year – from which we produce approximately 102,000 tonnes of our various cream cheese and fromage frais specialities in our Buchloe facility.
THE BEST FROM MILK
Quite obviously, a lot of milk is needed for these products: Six litres of milk are needed to manufacture one kilogramme of cream cheese. For one kilogramme of fromage frais, three litres of milk are needed. In comparison: Only one litre of milk is needed for one kilogramme of yoghurt. Fresh cheese and fromage frais therefore really do contain the best of the milk in a highly concentrated form. That is why they are so valuable and perfect for a healthy diet.
Top quality products need top quality raw materials. It therefore comes as no surprise that the quality of milk plays a major role for us. We ensure freshness and quality with standardised, fast processes and a comprehensive quality assurance system.
FRESH FROM THE FARM TO THE DAIRY
Milk tankers collect the milk directly after milking and transport it to Buchloe – these specialist container trucks arrive at our doorstep more than 20 times a day. In total, we receive between 560,000 and 680,000 litres of milk a day, which is immediately stored in tanks. The short routes between the farms and our dairy facility and continuous collection ensure the best possible freshness and resource protection.
QUALITY FOCUS
We diligently verify the quality of the raw milk: The first samples for testing are taken right at the source, when the milk tanker comes to collect from the contract farmer. These are analysed before the delivery reaches the dairy to ensure continuously high quality.

Additionally, external testing procedures ensure that the milk satisfies strictest requirements: In Bavaria, one of the bodies in charge of this task is Milchprüfring. This non-profit organisation regularly tests milk for purity and quality. As a neutral testing body, Milchprüfring carries out public service functions and is therefore state controlled. Additionally, the Bavarian State Research Centre for Agriculture (LfL) carries out quality checks of the delivered milk in monthly samples.
POWERFUL DUO: THE GOODNESS IN QUARK AND CREAM CHEESE
Our meticulous and low-impact manufacturing processes ensure that our cream cheese and fromage frais specialities retain a maximum of beneficial ingredients and great taste. Our delicious milk products contain plenty of calcium and are an important protein supplier for a well-balanced and tasty diet: Milk protein consists of a number of high-quality amino acids. Particularly important here are the so-called "essential amino acids", which the human body cannot produce. As these essential amino acids are very important for building and maintaining muscle mass, we have to ensure a sufficient intake with our diet – you will find them in every portion of fromage frais or cream cheese!