Exquisa cream cheese in the 10 kg container satisfies the highest requirements for quality and user friendliness. The easy to handle, robust container with an easy-to-open, tamper-evident seal is non-drip and easy to empty. The container is sealed with a food-safe foil. A perfect alternative for crème fraîche, sour cream, butter, mayonnaise or remoulade.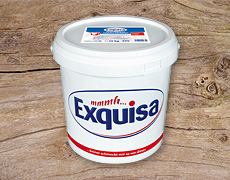 EXQUISA CREAM CHEESE 10 KG
FOR TRADITIONAL USES WITHOUT THICKENER
This particularly easy to spread cream cheese with its creamy and mild taste and extra-creamy, full-fat double cream is perfect as a spread on fresh bread or as a dip, as a finishing touch for soups, sauces and salads and as a baking ingredient.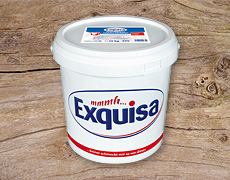 EXQUISA CREAM CHEESE 10 KG
FOR CULINARY CREATIONS WITHOUT THICKENER
For highest further processing requirements in fillings, for baking, refining and garnishes – this creamy and tasty cream cheese offers a high dry mass and double cream fat levels.
Feel free to call us: +49 8241 / 502 - 337, send a mail to vertrieb@exquisa.com or contact us with our contact form.