CHEESECAKE SNACK 70 G
A TASTY SNACK BETWEEN MEALS!
The Exquisa Cheesecake Snack is the perfect choice for a fresh and tasty snack between meals and therefore perfect for catering purposes.
Its unique position as a deliciously cooled cheesecake for on the go and the broad product acceptance among adults and children is proof of this product's excellent suitability, specifically in the sectors gastronomy and catering.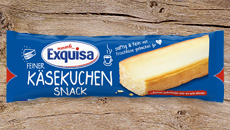 DELICIOUS CHEESECAKE SNACK 70 G
NATURAL
Juicy cheesecake made of finest cream cheese in a practical portion pack.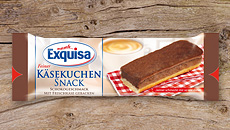 DELICIOUS CHEESECAKE SNACK 70 G
CHOCOLATE
The delightful chocolate variety of the popular cheesecake snack is perfect for in between meals or on the go.