EXQUISA CREAM CHEESE PORTIONS 62.5 G
ALWAYS A GREAT CHOICE!
Exquisa cream cheese in the perfectly portioned 62.5 g pack is the perfect snack for on the go or as a creamy dip or spread for fresh rolls, bread, croissants, sandwiches or baguettes.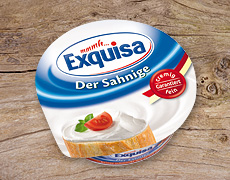 EXQUISA 'CREAMY' 62.5 G
The creamy-fresh and mild taste and a double-cream consistency make this cream cheese superbly spreadable. A delicious choice for spreading or as a dip with veggie sticks.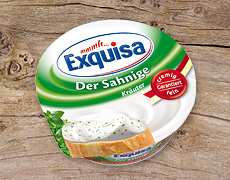 EXQUISA 'CREAMY' WITH HERBS 62.5 G
Exquisa "Creamy" with herbs in the practical 62.5 g portion pack is a perfect spread or dip for crackers and baguettes. A selection of spicy herbs in a deliciously creamy double-cream create the unmistakeable creamy-fresh and savoury taste sensation.
Contact us
Feel free to call us: +49 8241 / 502 - 337, send a mail to vertrieb@exquisa.com or contact us with our contact form.