EXQUISA CREAM CHEESE PORTIONS 20 G
QUALITY, TASTE AND CONVENIENCE IN A TINY PACK!
Exquisa cream cheese portions are the perfect alternative for butter or margarine. The practical 20 g portion size has the advantage of providing quick and easy portioning. The perfect choice for tray or buffet catering, as a spread or topping.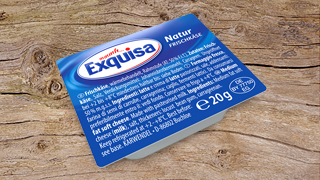 EXQUISA 'CREAMY' 20 G
The perfectly spreadable cream cheese in the popular 20 g portion size is perfect for buffets or tray service. The creamy-fresh and mild taste and double-cream consistency makes this classic variety the perfect choice for highest requirements for quality and taste.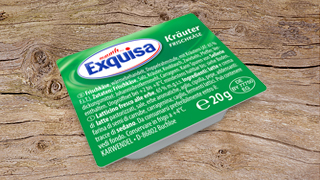 EXQUISA 'CREAMY' WITH HERBS 20 G
A selection of spicy herbs in a deliciously creamy double-cream create the unmistakeable creamy-fresh and savoury Exquisa taste sensation. Perfect as a spread or topping for baked potatoes, fillet of fish or baguette.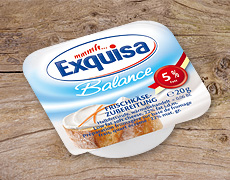 EXQUISA BALANCE 5% 20 G
The mild, creamy and fine cream cheese recipe offers regret-free delight at just 5% fat absolute and lends itself perfectly for a health-conscious or low-calorie diet. The low-fat alternative for butter or margarine tastes great with all types of bread and should be part of any buffet offering.
Contact us
Feel free to call us: +49 8241 / 502 - 337, send a mail to vertrieb@exquisa.com or contact us with our contact form.